Because of how it's built, the pickup itself functions as a regular microphone. So what the SP software/plugin gets is audio, and then it does its magic on that.
So what I do instead is take the audio directly into Max and do my own stuff with it.
The onset detection was the first thing I worked on, and it took me a while to fine tune the settings to get it somewhere where it tracked as well as the SP software. I think I've gotten there, and because it's bypassing the machine learning stuff, if you want really low latency, you can have it. If you want audio descriptors or machine learning classification, you can have that too, it just takes a bit longer as you have to wait for a useful analysis window to pass before it can analyze and match stuff.
This is more of a little perk thing since it's easy enough to do. But because the SP pickup is a microphone, it can be processed like anything else. The "audio" that comes from it is a bit shit sounding because it's really a magnetic sensor, which gives you a fast and clear transient, but doesn't have a full bodied sound, and is quite hissy.
What I've done (similar to this video where I did a similar thing for a hihat contact mic) is create a recording using the SP pickup and a nice mic (Earthworks DM20) and then feed the audio from those into a set of tools for impulse response processing (another tech project I was involved with a few years ago). What it does is create an "inverse eq" of the sound of the SP pickup (more or less) and applies that in a way tries to make the SP pickup sound like the DM20. You end up getting a custom EQ curve, that in this case looks like this: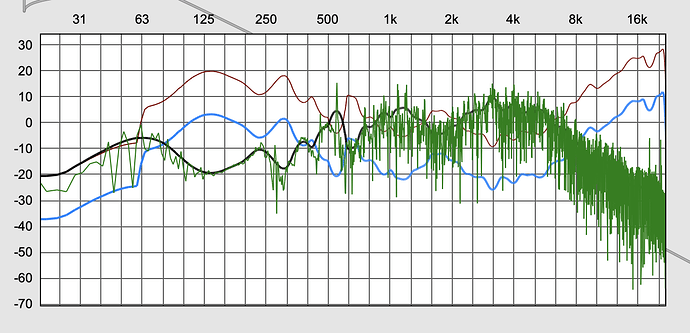 (green is the raw measurement, black is the smoothed version, and red is the inversion)
The final impulse response looks like this: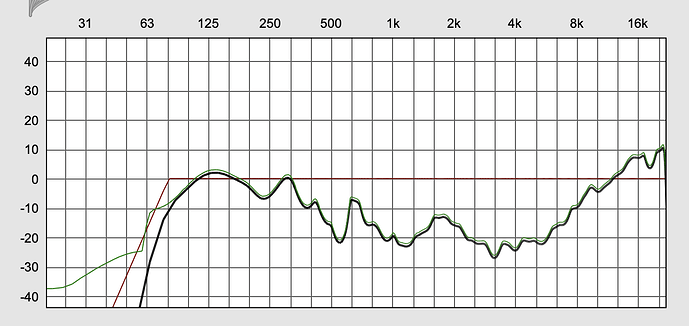 (black is the final one, red is a filter to cut some lows, and green is the final step from the previous process)
This isn't something you'd have to mess with to use it, but since you asked what's going on, I wanted to explain that bit.
Here's a video of the same kind of process, along with audio, but for a hihat contact mic with a 3d-printed mount I made:

Actually, not sure if I can attach audio, but here is the impulse response for correcting an SP pickup on a snare drum:
correctionSensoryPercussion.wav.zip (15.5 KB)
I'm going to try to make it use friendly, but sort of Max-facing. If you just want a super plug-and-play option, the native SP software/plugin are there and do what they do well. The bits I'll build should be able to be put together and used without having to get under the hood for everything, and there will be some more standalone-ish options (like a training/matching thing, and the corpus sampler, etc…), but I'll try to make it in a way that you can go as deep as you want to go with it.