my Ableton Plugin shows up in Ableton 11 but i cant activate it in Ableton
hope somebody can help me!
Ableton says i couldnt be found
Hi @MS_Drums,
Can you select "Use VST2 Plug-inSystem Folder" in your audio preferences?: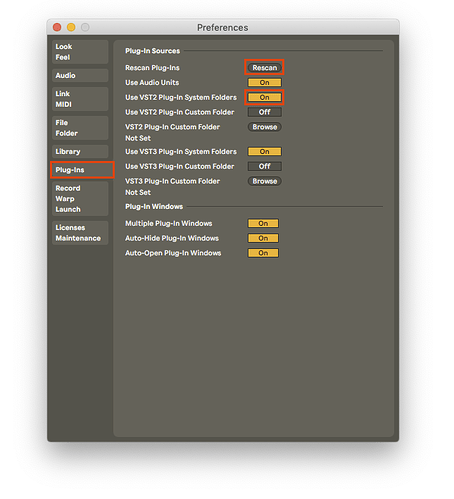 You then should then select "Rescan" at the top afterwards.
And if you are on Windows, I believe you should select this folder as your VST3 Plug-in Custom Folder:
C:\Program Files\Steinberg\VstPlugins
---
If this doesn't work, please start a chat on our website or send an email to support@sunhou.se and include screenshots of any error messages and we will get it sorted.
---
And be sure to use the plugin template (available to download on this page) so that the routing is taken care of for you.
Best,
Stevenz
Hey Stevens,
The last info I saw was mentioning VST 2 with the Ableton Template. I'm using that but I also enabled VST3…working fine! However I had an issue with a Waves plugin once that was supposed to be VST 2 and I was using a VST3 instance and it completely crashed the file, which was huge and actually an show length ableton file. So, I'm wary of using the wrong instance

What is best? Thanks in advance!